Welcome to the Netherlands!
Welcome to the Netherlands!
Submitted by

jono

on 31 Aug 2017.
Apologies for lack of news folks! Here's a summary...
Journey back from Helgoland: slow (not as slow as the journey out though!), long way, lots of ships. Got to Langeoog, one of a chain of Frisian Islands. Wind then had a day off - fine by me, who needed one too. Next hop was to island of Juist, where friends of a friend put me up. Particular thanks to Josef for bike tour and insights, and Yann for help getting gear to water the next morning. Enjoyed the island and my stay.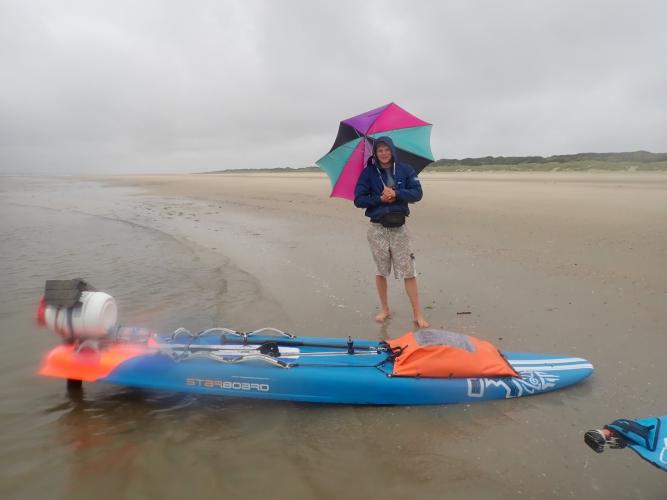 Steady progress from Juist, then the wind started misbehaving before quickly picking up to a solid 25 knots. That gave about 15km way overpowered before a big fall dropping off the back of a wave. By that point there was only a short distance more before I could duck inside the islands for shelter. Inside is so shallow that it is high tide only sailing. I was lucky (again, has become a habit): high tide.
Visibility, but the way, poor! Driving rain. Tricky navigation. Oh yeah... and forgot to fully close the zip on my drysuit... so wet and cold too.
But flat water makes all the difference, so - despite overpowering wind conditions - could charge across to Ameland, once I'd established where that was. First stop on inhabited Netherlands (uninhabited sand bank was technically the first NL stop).
Ameland. Where I had two contacts. The thing with dramatic entries though, is that the explanations start before you've even dragged the gear out of the water. And the offers of help. And beer. And to cut a long story short I made a bit of a hash of contacting my contacts...
So it was nice this morning when Rodney showed up, and then Hans too, both offering help. And the harbour office team were really nice. Everyone on Ameland I met was nice!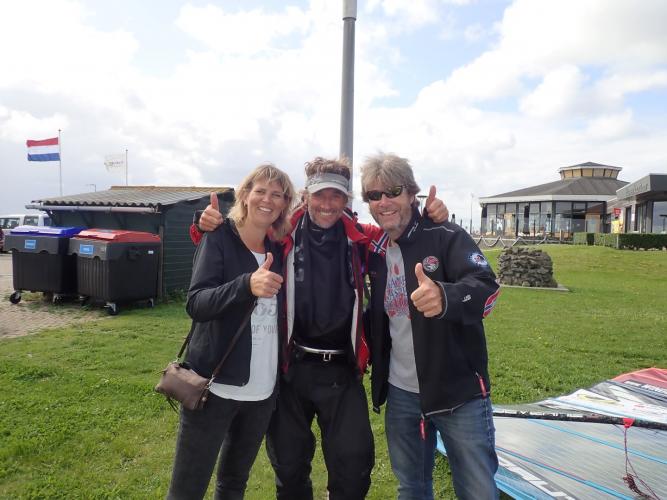 To get away today I had to wait for the water to return. When it did the wind was fortunately (pattern developing here) nice too, enabling me to reach Harlingen, rather than not making it and having to overnight on a sandbank miles from anywhere.
All going well.
NOSEDKDE + NL
:)